Eden named fellow of AAAS
ECE News
Tom Moone, ECE ILLINOIS
2/23/2009
Story Highlights
Professor Gary Eden was named a Fellow of the American Association for the Advancement of Science for his work with lasers.
Eden said he was grateful for and humbled by receiving the award.
Recently, Eden has been heavily researching ultrafast spectroscopy.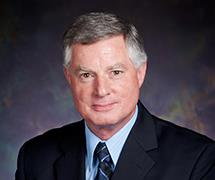 ECE Professor J. Gary Eden has been named a Fellow of the American Association for the Advancement of Science. He was recognized for "seminal interdisciplinary contributions to ultraviolet lasers, photochemical vapor deposition, ultrafast spectroscopy, and microcavity plasma devices."
"I'm grateful for the honor," said Eden. "It's a pleasure to work with such outstanding people in this department. And to be recognized in this way is a humbling experience."
All of the areas listed in the citation relate to Eden's continuing research on and with lasers. During some time at the Naval Research Lab (1975-1979), "we discovered a number of laser systems," said Eden. "Among them was one of the so-called excimer lasers." Excimer lasers are the ultraviolet lasers referred to in the citations. These types of lasers are used in semiconductor manufacturing and eye surgeries such as LASIK.
Photochemical vapor deposition is the process of depositing thin films on semiconductors or other materials using a laser to break the bonds in the parent molecules. Other processes use temperature to break down the parent molecules. "The idea is to be able to deposit thin films at lower temperatures than would be required for other CVD techniques," said Eden.
Ultrafast spectroscopy is a topic in which Eden is heavily involved in at the moment. "We are using lasers with extraordinarily short pulse length to effectively freeze the interaction between atoms and molecules. In effect one is slowing down the interaction," said Eden. Much like a strobe light that makes dancers at a party appear to be slowing down or even stopping, Eden has developed a technique that appears to slow down atomic interactions. "We're very excited about that because spectroscopy is opening a door to exploring physical mechanisms that have not been accessible in a clear way in the past. We're basically looking at fundamental atomic forces between atoms," he said.
Among his current projects, Eden sees the microcavity plasma device as an area where applications look promising. Using this technology, Eden and his colleague Sung-Jin Park, have developed a process to fabricate thin sheets of light emitters. "Basically these are large area lamps that are thin, light, and inexpensive," said Eden. "They are literally fabricated from aluminum foil."
Eden and Park have founded a company to pursue commercialization of this technology. Eden foresees applications that include cleansing of air and water. Also, the technology could be developed for environmental sensing.
Eden is sure that applications will also develop from his other areas of research. "As you know," he said, "the development of applications often follows the introduction of new science. A basic understanding of how nature works is critical and integral to applying it."