Engineering our future: PULSE 2017
ECE News
Corey Blumenthal, ECE ILLINOIS
3/3/2017 10:13:22 AM
Story Highlights
"You are all going to change the world. I have no reservations about that," said William H Sanders, ECE ILLINOIS Department Head. "When you, the students, ask a speaker to come…they come."
A record-breaking crowd of nearly 700 filled Grainger Auditorium for the 2017 PULSE opening ceremony. Now in its sixth year, the entirely student-run tech conference had outstanding attendance this year, undoubtedly boosted by keynote speaker Jen-Hsuan Huang, CEO of NVIDIA.
Huang headlined tech's biggest trade show, CES, in Las Vegas earlier this year. His company's mission is to continue to improve on the technology of gaming, professional visualization, data centers, and automobiles to build a better tomorrow. The longest running CEO of any technology company, Huang is especially admired for his work with artificial intelligence. In January, Huang announced that NVIDIA would begin partnering with Audi to build the next generation AI car, the most progressive of its kind.
"We make it possible for people to see the future before it happens," Huang told the crowd. "We want to enable people to see what is really great for humans."
As a pioneer in the electrical and computer engineering sphere, Huang was a clear choice to speak at PULSE. He challenged the audience to think about how their work as engineers could strengthen and advance society. He discussed the specific skill that allowed him to get where he is today as well as what he has discovered along the way.
"Our contributions come from our best skills," Huang said. "My listening skill is what I am most proud of. If you stay alert, you will keep learning. We don't always make money, and making money isn't the goal. It is the result of doing something. You must find the difference between the game and the score."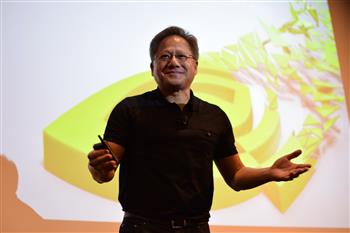 The five day conference also offered workshops with NVIDIA and PULSE co-host Texas Instruments. The NVIDIA workshop, "Getting Started with Deep Learning," explained how to utilize deep neural networks, while the Texas Instruments workshop, "Teaching Mechatronics with MSP430 LaunchPad Racerbot," allowed attendees to create wireless remote control robots. Both of these companies along with Huawei, Facebook, Qualcomm, and Capitol One hosted tech talks during PULSE.
A new Speaker Series debuted on the third day of the conference, featuring two Illinois professors. CS @ ILLINOIS Professor Cinda Heeren and Physics Associate Head of Undergraduate Programs Mats Selen shared their individual research interests, but both emphasized the need for students to leverage what they learn to help build a better future.
"You all have a reason and opportunity to seek out diverse experiences. Diversifying creates another dimension of ideas," Heeren said. "I just wanted to remind you of that and thank you in advance for all the ways you are going to make the world a better place."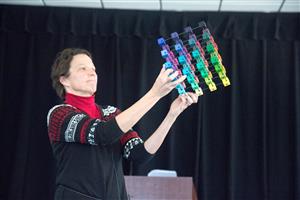 But perhaps the most exciting addition to the conference was the addition of a design competition exclusively for high school students. Students from more than six different high schools traveled to campus from as far away as Tinley Park and Arcola, Illinois, to participate.
Mosab Elagha, co-director of PULSE, was a strong advocate for expanding the reach of the conference to younger students. "After being involved with three years, I was able to see the benefits of the workshops and tech talks on undergraduate students," Elagha said. "I figured if they had benefitted these students so much they would benefit others. Since this year's theme was 'Engineering Our Future,' including the next generation of engineering students made sense."
The high school students were able to explore the ECE Building, participate in workshops and competitions, as well as talk to members of the PULSE team.
"The high school students came to the event knowing almost nothing and left having completed their own workshops and projects," said Elagha. "We are thinking about making it a bigger thing in the future."
PULSE 2017 Photos by Nicole Xia and Dylan Huang.