ECE/CS team wins honors at Purdue's BoilerMake hackathon
ECE News
Rebecca Nash, ECE ILLINOIS
2/7/2017 3:26:32 PM
Story Highlights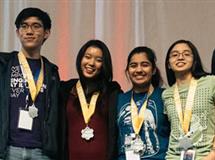 ECE ILLINOIS freshman Duke Vijitbenjaronk and CS freshmen, Jennifer He, Arshia "Aria" Malkani, and Shao Yie Soh, brought home two prizes at the
BoilerMake IV
a 35-hour hackathon at Purdue University, including "Make School's Best Beginner Hack" and "Rockwell Collins' Best Rookie Hack."
Their application,"Top Hat," is a virtual reality game designed to bring increased awareness to network security as well as gather the greatest amount of relevant data from its users. According to the team's dev site, the program's goal was "acquiring the greatest amount of relevant data possible from its users while providing an experience that is engaging and challenging."
Using an artificial intelligence agent developed by Vijitbenjaronk, the game learns techniques from previous rounds against human players to remain challenging and engaging. The minimalistic approach, from the logo to the design of the user interface and game objects, is inspired by the security industry. The team hopes their project will be a valuable tool while analyzing real-world networks in the future.