Hovakimyan develops drone startup to help farmers with crop yield
ECE News
Daniel Dexter, ECE ILLINOIS
1/5/2017 1:29:09 PM
Story Highlights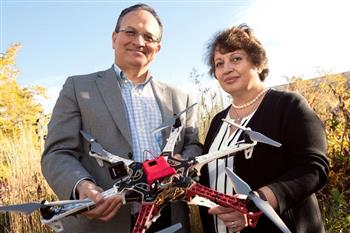 Crain's Chicago Business brought attention to the work of ECE ILLINOIS affiliate and Mechanical Science and Engineering Professor Naira Hovakimyan. She co-founded a robotics imaging startup called IntelinAir. with Al Eisaian, a serial entrepreneur from Silicon Valley. The company has employees in Champaign and San Jose, California.

The company uses images collected by drones to gather information about crops in order to help framers ensure a greater yield. The startup's algorithm is designed to identify inconsistencies in a cropland, so that farmers can make adjustments to their fertilization or choose places to replant. According to Eisaian, IntelinAir could lead to a 10 to 20 percent improvement in annual crop yield.

Hovakimyan is also using the technology to help elderly people get items like pills without leaving the house. The drones she is designing are expected to be the size of a palm.

"I'm always concerned about safety of people," Hovakimyan told Crain's Chicago Business. "The population over 65 is going to double. There aren't enough nursing homes. (IntelinAir is) about saving the planet. With today's technology, you can't feed 9 billion people."

Lean more about Hovakimyan's research in Crain's Chicago Business.