University of Illinois named world's first CUDA Center of Excellence, wins parallel computing funding
ECE News
Bridget Maiellaro, ECE Illinois
9/16/2008
Story Highlights
Professor Wen-Mei Hwu will be the principal investigator.
Illinois is recognized as a primary collaborator with NVIDIA, and has received research funding and equipment to expand that relationship.
NVIDIA leads the industry in GPUs, high-performance processors that enable graphics development on various devices and platforms.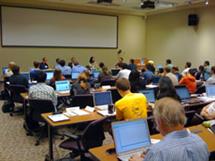 The University of Illinois at Urbana-Champaign was recently named the world's first CUDA Center of Excellence by the NVIDIA Corporation, a world leader in visual computing technologies. ECE Professor Wen-Mei W Hwu, who holds the Sanders-AMD Endowed Chair in Electrical and Computer Engineering, has been named the center's principal investigator.
As an NVIDIA Center of Excellence, Illinois is recognized as a primary collaborator with NVIDIA, and has received research funding and equipment to expand that working relationship. In the last year alone, NVIDIA support has exceeded $1 million, including 32 QuadroPlex Model 4 systems, each outfitted with 64 graphics processing units (GPUs). These systems have been incorporated into a 16-node CUDA cluster, which is managed by NCSA as a key component of Illinois's parallel computing facilities.
NVIDIA, headquartered in Santa Clara, California, leads the industry in GPUs, the high-performance processors that enable graphics development on various devices and platforms. NVIDIA selected ECE Illinois for this forward-looking collaborative center based on its innovative uses of CUDA technology, an extended C language, and its associated software development kit for parallel computing applications on GPUs.
"Several schools were in competition for the center, so I was very gratified that Illinois won it," Hwu said. "Our ultimate success will make Illinois the top parallel computing school overall. With our existing strengths in compiler technologies and parallelism, along with the wealth of scientific computation under way on campus, we are now well positioned to become a leader in parallel applications as well, which will definitely secure the top position for Illinois."
As principal investigator of the Center of Excellence, Hwu is working with a team of Illinois researchers in diverse scientific fields such as microbiology, astronomy, physics, and chemistry to create an applications community whose computational research will move to CUDA-based parallel processing. Using such advanced technology, Illinois researchers will be able to solve extremely complex computational problems in a substantially shorter amount of time.
"NVIDIA funding is making it possible for us to put together a very strong team of application developers, and they will be our key to moving forward," Hwu said. "We are also very interested in building our team further with researchers from other University departments who can benefit from the computational speedups and larger capacity afforded by parallel processing."
The ECE-NVIDIA collaboration dates back several years, when David Kirk, NVIDIA's chief scientist, accepted an invitation to serve as a guest lecturer in Hwu's ECE 511: Computer Architecture course. That relationship became forward-focused when they realized that parallel processing had not yet become part of university curricula in the U.S., despite the industrywide shift from serial computing to parallel computing.
With prompting from ECE Department Head Richard Blahut, Hwu and Kirk decided to take matters into their own hands and created and presented the new course, ECE 498AL: Programming Massively Parallel Processors. The course debuted in spring 2007, only to be repeated the following semester due to popular demand. Using NVIDIA processors and CUDA programming tools, students from scientific fields across campus developed application software for the NVIDIA processors that leveraged their massively parallel computing capabilities-something that no other course has ever provided. "All the students ended up doing excellent work," Hwu said. "Several are now working on thesis problems based on what they learned in the class."
In less than a year, the course has attracted attention from universities around the world, and Hwu is now fielding requests for the lectures and notes. As a result, Hwu and Kirk are developing several new initiatives to deliver the course globally by the beginning of next year. They include creation of an online community where students can assist each other and build on previous work, an on-line version of the course, and a book that can both stand alone or complement the course. Also on the agenda is a program to assist educators. "Even though the course materials can be found online for all to access, a summer teacher's institute would enable professors to enrich the hands-on experience for students and customize the course to fit their needs," Hwu said.
While Hwu and Kirk work several states apart the majority of the time, Hwu said he could not ask for a more dedicated partner. "Kirk really sticks to his end of the deal," said Hwu. "During our course in spring 2007, he was flying in on a corporate jet every week to help teach the course."
With a list of goals to achieve, such as building the next generation of supercomputers, Hwu sees nothing but a bright future for the University of Illinois and NVIDIA collaborations. "If you look at the big picture, Illinois is leading the parallel computing movement today," he said. "NVIDIA is helping us, and we will be contributing back. It's what I like to call a classic win-win situation."