High school girls explore electrical engineering at GLEE camp
ECE News
Julia Sullivan, ECE ILLINOIS
6/26/2016 9:26:32 AM
Story Highlights
The Texas Instruments Design Laboratory buzzed with energy last week, as Lynford L Goddard welcomed girls entering 10th, 11th, and 12th grades to the 2016 Girls Learning Electrical Engineering (GLEE) camp. The camp is designed to increase the students' exposure to engineering by allowing them to experience the field though the eyes of an innovator-engineer. GLEE, one of the eight tracks of Girls' Adventures in Mathematics, Engineering, and Science (GAMES) camp, is an opportunity to reframe their perceptions.
The curriculum for this unique, hands-on opportunity has developed over the years thanks to feedback from students. Prof. Goddard explained that GLEE included only two projects at its inception. It has expanded to include five projects, including an FM transmittor, LED calculator, optical projection, solar cells, and a new photochemical project based on Dr. Goddard's own research.
In addition to projects, the campers toured many areas of campus, including the nanofabrication clean lab in the ECE Building.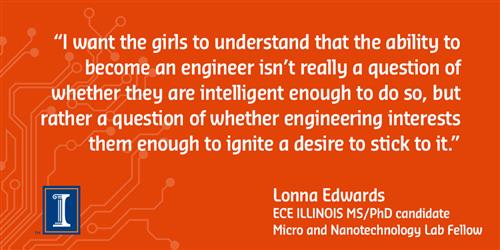 GLEE demonstrates the opportunities to solve problems in all areas of engineering. One student from near La Grange, Illinois, was surpised to learn just how many there are. She came into the camp knowing about circuits and waves, but the one-week experience opened her eyes to so many other possibilities.
You can see more of the photos from 2016 GLEE on the ECE Facebook page and from the I-STEM Education Initiative.