Goddard receives teaching award
ECE News
Max Tane, ECE ILLINOIS
7/18/2012
Story Highlights
ECE Assistant Professor Lynford Goddard is the recipient of the 2012 Ronald W. Pratt Faculty Outstanding teaching award.
Goddard strives in his classes to make connections with students and to keep them excited and motivated about the engineering field.
In addition to his teaching, Goddard also founded Girls Learning Electrical Engineering, a summer camp that brings girls from across the country to the University.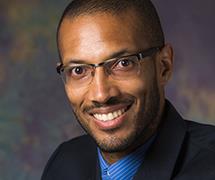 ECE Assistant Professor Lynford L Goddard is the recipient of the 2012 Ronald W. Pratt Faculty Outstanding Teaching Award. He was surprised to learn he had won the award and was gratified that his efforts were recognized and appreciated.
"To hear some of the comments how students really valued my teaching—it validates all the work you've been doing," Goddard said.
Goddard, a researcher in the Micro and Nanotechnology Lab, joined ECE in 2007. His research focuses on photonic devices. His group is developing light and lasers for communication and sensing. As an undergraduate at Stanford University, he studied math and physics. During graduate school, his focus switched to more of an engineering bent because of the applications engineering presented to the problems he was interested in studying.
This spring Goddard taught ECE 329: Field and Waves I, and plans to teach ECE 498LG: Principles of Experimental Research (a new course) in the fall of 2013. This fall Goddard will teach ECE 110: Introduction to Electrical and Computer Engineering.
He welcomes the challenge of teaching ECE 110. He looks forward to helping new students make the transition from high school to engineering courses.
"Just being able to make connections with the students and keep them motivated and excited about engineering will be a big challenge," Goddard said. "A lot of students come in thinking they want to do engineering, and for whatever reason they lose interest in it. Trying to engage them at the freshman year will be an opportunity for me."
Goddard also seems to have a knack for finding talented student. He encourages many students from his junior-level ECE 329 course to apply for positions in his research group. So far, he has supervised 9 senior theses and 16 independent research projects.
"You can see the students that ask questions and are curious about the way things are. Those are students who would be well-suited for doing research," he said. "I've had good connections with these students."
Before arriving at Illinois, Goddard had gained many tools needed to be a successful teacher. He had been a peer tutor at Stanford as an undergraduate. Then, while a graduate student, he also tutored high school students who were taking AP courses in math and physics.
When he began teaching at the University, the interaction and rapport he had with his students became a key factor in his enjoyment of being at Illinois.
"The first semester I got here, I taught an 8 a.m. class," Goddard said. "I did not think there would be twenty-five people showing up at 8 a.m. It just shows how much these students want to learn here."
Goddard hopes his new course, Principles of Experimental Research, can give the opportunity for senior undergrads and first year graduate students to learn how to do individual research with limited supervision.
"I'm really excited about my new course," he said. "It's something I had thought of many years before I came to Illinois. It's a course that I really wish I had the chance to take when I was in grad school."
Goddard is also active in the Girls Learning Electrical Engineering (GLEE) summer camp, which he founded two years ago. The camp brings high school girls from across the country to the University of Illinois to learn about electrical engineering.
"It's great that we can recruit kids out of state to come to the campus for summer," said Goddard. "It's an opportunity for them to learn what electrical engineering is about, but also what Illinois has to offer."