PECI: Third year a strong one for student-run conference
ECE News
Reema Amin and Max Tane, ECE ILLINOIS
7/6/2012
Story Highlights
The third annual Power and Energy Conference at Illinois (PECI) took place earlier this year.
The two-day conference had 110 attendees and 36 papers presented.
This year's conference was at the I Hotel, which provided a bigger venue for this growing conference.
The third annual Power and Energy Conference at Illinois (PECI) took place at the end of February. The student-led and student-run conference was held at the I-Hotel and Conference Center.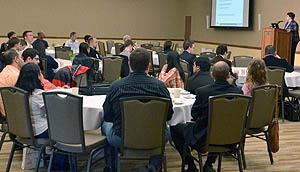 Eleven students worked much of the fall semester to design a successful conference. Faculty members Philip T Krein and Peter W Sauer served faculty advisers. These students gathered funding for the conference, invited speakers, chose a venue, and performed many other tasks that go in to ensuring a successful conference.
"All the footwork is done by the students," said ECE graduate student Katherine Kim, one of the co-directors of the event. "There are a lot of student volunteers at other conferences, but there are hardly any other conferences that are put together completely by students."
The two-day conference had 110 attendees, of which 50% were graduate students, 21% were undergraduate students, 15% were university faculty, and 14% were from the industry.
The conference included three invited speakers. The keynote speaker was Jeffrey S. Katz, Chief Technology Officer of the Energy and Utilities Industry at IBM. He discussed challenges within the industry and how to make an impact.
Steve D. Pekarek, professor of Electrical and Computer Engineering at Purdue University, gave a lecture titled "DC or AC: Back to the Future." Noel N. Schulz, President of the IEEE Power and Energy Society and ECE professor at Kansas State University, talked about networking in technical societies.
A "Best Paper" competition recognized the best research paper submission to the conference. Nearly 100 papers were submitted from around the world, two times more than last year's conference. From this pool, 36 papers were presented. The conference has seen a substantial increase in the number of submitted papers each year.
Omid Mostaghimi, student at Newcastle University in the United Kingdom, won the Best Paper Award with his paper on a new SiC/SOl-based PWM generator for SiC-based power converters in high temperature environments. Conference attendees commented that the quality of the papers have increased every year.
On the second day of the event, attendees went on a tour of the Blue Waters Supercomputing facility and the University Solar Decathalon house.
ECE graduate student Brett Robbins, the other co-director for the conference, said some of the challenges were the timing of the event and the amount of funding that went into it compared to years past. While this year's venue was more expensive, Robbins said it was well worth it because the I Hotel and Conference Center provided a larger venue that enabled PECI to grow and improved the overall experience of the attendees. He hopes that this year's conference can set a foundation for future ones to come.
Kim agreed: "It gives us more room than the Illini Union to expand the conference participation in the future and it is easier for people traveling from outside of the university to drive to. One main goal of the conference is to bring together students from nearby schools, so external accessibility is important."