ECE Pulse conference a success
ECE News
Heather Punke, ECE ILLINOIS
4/13/2012
Story Highlights
In February, ECE Pulse was held, bringing together 10 companies and over 400 students.
Led by ECE senior Ekta Shah, the 3-day technical conference included a technical competition, a keynote speaker, networking dinner, and eight tech talks.
The keynote speaker was Illinois alumnus Michael Callahan, the winner of the first-ever Lemelson-MIT Illinois Student Prize.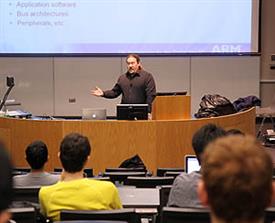 A group of hardworking ECE students, led by ECE senior Ekta Shah, put together the department's first ever technical conference in February–ECE Pulse: the Heartbeat of Innovation. Ten companies took part, and more than 400 students registered for the event.
Shah, who has organized smaller ECE events in the past, learned a lot from this larger conference. "We felt like giving up many times," she said, because of the stresses and challenges involved with the planning.
But she didn't give up. ECE Pulse was a 3-day technical conference that included a technical competition, a keynote speaker, networking dinner, and eight tech talks. With Shah at the helm, the conference was a joint venture of IEEE, Women in Electrical and Computer Engineering (WECE), the ECE Student Advancement Committee (ECESAC), and Eta Kappa Nu (HKN).
When she started planning in December 2011, Shah had no idea the conference would grow to its final size and scope. However, she did know she wanted it to be different from the usual ECE events. "We wanted to think from scratch," she said.
Pulse became a successful technical conference that Shah and her team worked hard to promote. The conference has its own website and Facebook page. ECE Department Head Andreas C Cangellaris also sent out an email encouraging students to register. That took the number of registered members from around 125 to 300 in just one day. "That was really exciting. I called my team and asked them to track [the numbers] with me," Shah said. "We knew that things were working" after that.
Shah faced many challenges during planning for ECE Pulse. One of the big ones was scheduling the conference during spring semester. "Companies have an annual budget, and we missed the end of it," she said. Companies hadn't included this expense in their 2012 budget, and Shah said it was difficult to convince them to spend money. "That was the main challenge," she said.
Eventually, 10 companies agreed to donate money, time, or both to this first ECE Pulse conference.
Michael Callahan, the inventor of the Audeo and winner of the first-ever Lemelson-MIT Illinois Student Prize, was the conference's keynote speaker. He discussed innovations in technology.
"That was really amazing," Shah said. "Everyone loved his speech. It was extremely motivating." Following the speech, the students and company representatives mingled during a networking dinner.
The next day of the conference had eight tech talks scheduled. "Students enjoyed the talks and asked a lot of questions," Shah said. ARM, Caterpillar, IBM, Infinera, NCSA, NVIDIA, Schlumberger, and Qualcomm all sent speakers. The event ended with a social mixer that night.
The participating companies said they enjoyed the experience, and Shah expects about 10 to 15 more companies to participate next year, to bring the total to around 25 companies.
In the end, Shah was pleased with how the conference turned out. "We got great feedback," she said. "I'm confident we have successfully laid a strong foundation for the new ECE tradition."