Watkins develops award-winning product that could improve AIDS treatment
ECE News
Reema Amin, ECE ILLINOIS
12/20/2011
Story Highlights
ECE graduate student Nicholas Watkins received the Baxter Young Investigator Award.
His winning research was in developing a portable CD4 counter, which can be used to treat HIV patients in underdeveloped countries.
The device counts the number of Helper T cells in the blood, which provides a snapshot of a patient's immune system and helps determine which type of antiretrovirals the patient should receive.
ECE graduate student Nicholas Watkins has developed a product that could help make AIDS treatment significantly more effective, rapid, and less expensive worldwide. His research and innovation was recognized with the Baxter Young Investigator Award.
The annual Baxter awards are intended to stimulate and reward research applicable to the development of critical care therapies and medical products that save and sustain patients' lives.
Watkins developed a CD4 counter, which counts a specific type of blood cell, called the Helper T cell. The Helper T cell is in the white blood cell family and is a leader in the immune system—it helps fight off foreign pathogens. But HIV specifically attacks the T cells and uses them to create more viruses. An HIV positive patient without proper treatment will develop AIDS if the T cell count becomes dangerously low, leaving his or her immune system incapable of handling opportunistic infections.
The final prototype of Watkins's device will be hand held, requiring only one drop of blood from an AIDS patient. The device then counts the number of Helper T cells in the blood, which provides a snapshot of a patient's immune system and helps determine which type of antiretrovirals (drugs to fight HIV) the patient should receive. The current prototype can provide T cell counts in 15 minutes or less. This duration would allow a doctor to obtain a patient's T cell count and adjust the retroviral therapy in a single appointment.
Machines called flow cytometers exist and complete the same task, but these devices are large and expensive. Watkins said these machines are "very efficient," but, they can cost over $100,000 and require highly skilled technicians to operate them.
When Watkins thought of making his CD4 counter, he had sub-Saharan Africa in mind.
"We're trying to make a handheld, portable CD4 counter that can be deployed to regions that don't have the money we have," Watkins said. "We're thinking of areas like sub-Saharan Africa, where HIV/AIDS is prevalent."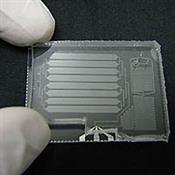 But his device will not benefit solely one region in the world. Watkins said this type of machine would be necessary in any underdeveloped country that has a large portion of its population battling AIDS. He said millions of dollars are sent to these countries to help support the dispersal of medication, but the different medications are only effective when the correct one is given based on an individual's Helper T cell count.
"Each person's immune system responds differently," Watkins said. "You need a highly quantitative test like a CD4 counter to determine which drugs work better. These drugs do work, but the problem is that we're having trouble figuring out which drugs work for each person."
Watkins added that his portable CD4 counter can help improve the quality of life for people who do not live in bigger cities, where flow cytometers might be available.
The device is Watkins's PhD project under the direction of his adviser, ECE Professor Rashid Bashir, director of the Micro and Nanotechnology Lab. It was started during the summer of 2009 with the help of both Bashir and Dr. William Rodriguez, CEO of Daktari Diagnostics in Cambridge, Massachusetts—a company that specializes in point-of-care devices for HIV, tuberculosis, and malaria for use in resource-poor settings. Over time, Watkins was able to gather more help from other graduate and undergraduate students.
Watkins presented a summary of his CD4 counter research at the awards ceremony this past October. He said that the banquet reminded him that his long, grueling hours of research will finally make an impact on others.
Watkins said he wants to continue with this type of work after he receives his doctorate. "It was very challenging but very rewarding knowing this is a very practical application and could be used in the next few years," Watkins said. "It's fulfilling to know that this research won't just be published but will actually be used to help people."