Faculty start-up Nuvixa launches StagePresence communications product
ECE News
Nathaniel Lash, ECE ILLINOIS
10/24/2011
Story Highlights
Nuvixa, a company founded by ECE faculty, launched StagePresence, a product that incorporates an individual into an online presentation.
The product utilizes depth-measuring sensors found on new types of cameras.
Beta versions of the product have been used to create video resumes and online course content.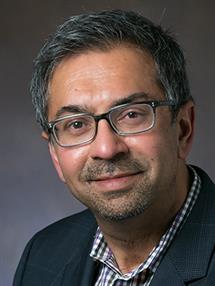 Nuvixa, a company founded by several ECE ILLINOIS faculty members and alumni, has launched a revolutionary new video communications product. Nuvixa StagePresence, as described by ECE Professor and Nuvixa CEO Sanjay J. Patel, enables a presenter to create more compelling presentations that are a fusion of content, voice, and video persona. StagePresence plucks the video image of the user (a "video persona") out of whatever environment they're in and superimposes them on anything they can bring up on their PC.
Patel said, "StagePresence is a tool for content creators to quickly create video content for training, education, on-line seminars, and video blogs. We've had a lot of interest for it in higher education, because universities and colleges are struggling with creating video-based course content."
One of the key enabling technologies behind Nuvixa's experience is the depth-measuring sensors found on new cameras like the Microsoft Kinect. As ECE Professor and Nuvixa CTO Minh N Do explained, "Nuvixa's core innovations come from the fusion of depth data with color video data coming from the sensor device. By augmenting video pixels with depth, many new processing possibilities open up for video enhancement, rendering, and encoding. Much of the initial technology behind Nuvixa started as research projects in our lab."
StagePresence has been in closed beta for the last several months. Now that it is launched, it will be targeted toward individuals who actively create video content, including educators hoping to provide more online course video for their students.
"The expectation from students today is that course material should be available as on-line video," Patel said. "Our product is a way for our instructor to take their notes, be they in PowerPoint or otherwise, and to add their voice and video persona to that presentation."
StagePresence allows users to import their PowerPoint presentation into StagePresence's interface, inserting themselves (and just themselves) onto their slides. Users merely swipe their hand left or right to change slides and step to either side of the display to position the slides on either side of themselves.
A "sneak peek" of StagePresence has already been up for several months. During this time, about 5,000 downloaders have been testing out the program in a variety fashions; some producing video résumés, and others creating educational presentations, like ECE Assistant Professor Shobha Vasudevan's video lectures for ECE 290: Computer Engineering I.
"The next set of challenges for video calling and conferencing will be around effectiveness and productivity," Patel said. "To accomplish this, video needs to be smooth and of high quality, but also with minimal distraction and user fatigue. Nuvixa's core technology around user extraction, perspective correction, lighting correction, and user-centric video coding makes video much more effective. StagePresence is the product that starts us on this journey."
ECE students are getting into developing Nuvixa technology. Vinit Shah, an ECE senior, joined the staff as an intern after first seeing StagePresence's capabilities from a friend. Over the past summer, he worked as an intern on developing a dedicated Web player for Nuvixa's products, learning various coding languages in the process.
Ben Chidester, an ECE graduate student currently working on another side project at Nuvixa, is curious as to what the public will make of StagePresence when it makes its full launch. "People always come up with creative ways to use things," he said. "It might not be the way you thought it would end up being used."
The StagePresence Basic-Edition production tool will be available for free download from Nuvixa's website, where Nuvixa also provides video-hosting services for the videos created using the product.