ECE seniors take second in national competition
ECE News
Heather Punke, ECE ILLINOIS
9/23/2011
Story Highlights
Donald Darga and Mohammad Malik finished second out of 21 in Texas Instruments' Analog University Design Contest.
Darga and Malik had submitted their Senior Design project: a hyper-focal distance meter.
The device uses lasers to determine the optimal distance where an entire photograph will be in focus.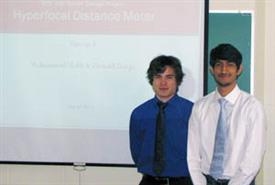 A pair of ECE seniors finished out the 2010-2011 school year as second place winners—and $9000 richer. Donald Darga (who will graduate this December) and Mohammad Malik (now an ECE grad student) finished second out of 21 in Texas Instruments' Analog University Design Contest.
Darga and Malik submitted their ECE 445: Senior Design project to the contest. Their design was a hyper-focal distance meter, a camera accessory for any avid photographer.
Malik came up with the idea for the device because of his interest in photography. "I've been doing photography for about four years," he said. There was one problem he kept running into – getting landscape photos in focus.
"If you take pictures picture of a landscape or something, you want the whole thing to be in focus," Darga explained. "There's a 'magic' distance you can focus at where your whole picture will be in focus."
Currently, photographers have to look up the distance on a chart, given certain variables.
"The charts are inconvenient," Malik explained.
"Or you can just kind of guess and hope it works out, which I think is what people do nowadays," Darga added.
The design Darga and Malik produced can calculate that "magic" distance and help photographers focus with a laser. It does all of the work—all the photographer has to do is point and shoot.
Their hyper-focal distance meter used a lot of Texas Instruments (TI), parts. "TI parts were free, so we used quite a bit of them," Darga said.
TI supports students by giving them free sample products. In order to enter the contest, the designs must feature TI products, according to the competition's website. Because Darga and Malik's project involved TI microcontrollers and voltage regulators, Associate Professor Scott Carney encouraged the duo to sign up.
"[He] basically urged us to sign up for the contest since we were using TI devices," Malik said. "And there were some prizes so we thought, 'why not?'"
To make it to the national round of the competition, the project must first win the schoolwide project. Darga and Malik did, and collected $1,500 as prize money. They then went on to Dallas for the national competition, and finished second. The prize for second place was $7,500.
Not only did the competition give Darga and Malik financial gains, Darga said the summit could help him make strides with his future career. "We got to really meet a lot of people over at TI and see what they're doing, so we have a lot of contacts over there," he said.
Overall, the team's experience at the summit was a good one. "It was fantastic," Darga said. "I enjoyed every second of it."