Li receives Young Investigator Award from Navy
ECE News
Nathaniel Lash, ECE ILLINOIS
6/21/2011
Story Highlights
ECE Assistant Professor Xiuling Li recently received the Office of Naval Research (ONR) Young Investigator Award.
Li's project is designed to answer a need for high-dynamic-range, low noise, and power-efficient communication systems.
Part of Li's innovation involves a novel method for growing nanowires.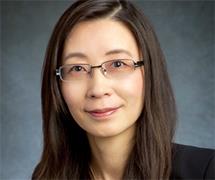 ECE Assistant Professor Xiuling Li recently received the Office of Naval Research (ONR) Young Investigator Award. The ONR Young Investigator Program (YIP) seeks to identify and support junior faculty members who show exceptional promise in creative research. Li's proposal, entitled "Massively Parallel Planar III-V Nanowires and Rolled-Up Tubes: Novel Platforms for High Linearity Electronics and Integrated Photonic Circuits," was selected as one of 21 proposals from more than 270 applications, according to a Navy press release. Li received a three-year, $560,000 research grant.
Li's proposal focuses on applications of discoveries she and her research group have made in nanotechnology. Her proposal zeros in on the Navy's need for high-dynamic-range, low noise, and power-efficient communication systems, which can be facilitated through high linearity III-V compound semiconductor nanowire based electronics and photonics. Linearity means that the output signal is related to input signal by a simple scaling factor.
Li, who is a researcher in the Micro and Nanotechnology Lab and an affiliate of both the Beckman Institute and the Materials Research Laboratory, has been working on III-V compound semiconductors that could enable the production of high linearity electronics since joining ECE.
Traditionally, radio frequency (RF) amplifiers trade off improved linearity against higher power dissipation. Nanowire-based field effect transistors have been predicted to have much higher linearity characteristics with decreased power delay product. In theory, nanowires that are small enough can reach the quantum capacitance limit, where the wire behaves as if it were perfectly one dimensional (1D), thereby providing the desired 1D transport properties.
However, not all materials reach this limit at the same scales. Silicon, for example, must be six nanometers to behave this way. Li believes using III-V semiconductors will give successful results at greater sizes. Indium arsenide, for example, only needs to be in the range of 20 nanometers, which (despite being 5,000 times thinner than a sheet of paper) is a size that Li calls "a technologically feasible dimension."
Her method for growing nanowires goes against conventional bottom-up nanowire processes. Rather than producing nanowires perpendicular to the plane from which it was grown, Li's method produces nanowires along the plane through the use of a metal catalyst. Growing wires parallel to the plane is an innovation that could enhance the potential for use in manufacturing nanowire devices.
"In production, you consider things that university research does not normally care about: uniformity and repeatability," Li said.
Manufacturability became one of Li's guiding principles when, prior to joining the Illinois faculty, she worked for six years at Champaign start-up EpiWorks, which manufactures semiconductor device structures.
The nature of her breakthrough in nanowire production provides for this sort of manufacturability.
"If you look at our nanowires, you can see these are all planar," Li said. "When we process these wires for devices, we use the same processing technology used at Intel for microelectronics. Our planar wire is exactly compatible with planar processing."
The planar geometry also improved the defect density in the nanowires, which has led to better device performance. Thanks to ONR, this innovation will be applied to more technologically important materials and devices. Another minor effort the ONR grant will support is III-V tube-based nanophotonics.
Li said the ONR YIP is "absolutely critical" for her continued progress in this research area.
"I am fortunate to be in a place that has strong infrastructure and supportive environment, but the type of research I do is very costly. Just the consumption of materials and supplies is quite big," said Li, whose graduate students cover all steps of the processing loop of a semiconductor device—from crystal growth to device characterization. "Even though it consumes more resources this way, the feedback loop goes a lot faster. This Navy grant is going to be very helpful in sustaining the research, which in turn will help us explore more challenges and lead to more discoveries and innovations."