Sherry Beck retires after 36 years at ECE
ECE News
Nathaniel Lash, ECE ILLINOIS
6/9/2011
Story Highlights
Sherry Beck retired after 36 years with ECE.
Beck has fond memories of interacting with the many students that have crossed her path over the years.
She looks forward to traveling the country by train with her husband.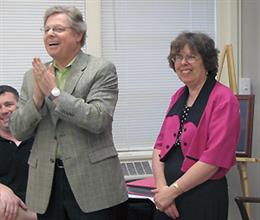 When Sherry Beck started working for the Department of Electrical and Computer Engineering in 1974, her duties largely involved writing applications on a typewriter and operating a mimeograph machine. By the time she retired 36 years later on May 27, this office support specialist for graduate advising was doing most of her work on the computer.
But although her work has changed, the kindheartedness she's known for has never wavered. At a reception in honor of Beck's retirement on May 25, ECE Department Head Andreas C Cangellaris noted the contagious kindness Beck has shown throughout her time at ECE.
"She has touched the lives of thousands of students that have gone through this department," Cangellaris said. "I have never met a kinder, more gentle, polite person in my life."
Beck will remember rubbing elbows with engineering giants of ECE such as Nobel laureate John Bardeen and Professor Nick Holonyak, Jr. A longtime Illinois basketball fan, Beck will also have fond memories of interacting with ECE undergraduate and Fighting Illini power forward Jack Ingram, a member of the team that went to the finals of the 2005 NCAA tournament.
But the thing that brought her back year after year was working with the ECE students, she said.
"I just like working with students, visiting with them, helping them," Beck said. "I like the student traffic that comes through here."
The number of students has grown over the years. AT the same time, the application process became streamlined in the digital age, allowing Beck to focus more on assisting graduate student and undergraduates as time went on.
Some of her relationships with students spanned decades, as it has with ECE Professor Brian T Cunningham (BSEE '86, MSEE '87, PhD '90), who went through her office numerous times while completing his three ECE degrees, and many times more since he returned to Illinois as a faculty member in 2004.
Beck said the friendliness and congeniality of the department has been something that's kept her and others working in ECE.
"We've had people who stayed here for years," she said, recalling friend Mary Parsons, who worked in the same department as Beck for 26 years before retiring in 2004. "But it was time for her, just like me, to do other things."
An avid traveler, Beck plans to travel via the American railway system with her husband Nelson. The couple, traveling to North Carolina by train in the coming weeks, estimate they have covered more than 60,000 miles together in a railcar. "It's a great, relaxing way to see the country, stress-free," Beck said. "We're both starting out new and doing something different now."