ECE professor, CS graduate student study wireless devices
ECE News
Lauren Eichmann, ECE Illinois
11/15/2007
Story Highlights
Prof. Nitin Vaidya is working to improve the future of wireless technology by researching multi-channel wireless networks and their protocols.
Along with CS grad student Vartika Bhandari he is studying the the theoretical angle of wireless device operation since early last year, including theoretical limits on large-scale networks.
handari and Vaidya received the Best Student Paper Award at the September 2007 ACM MobiHoc conference in Montreal, Quebec, Canada, for their paper entitled "Capacity of Multi-channel Wireless Networks with Random (c, f) Assignment."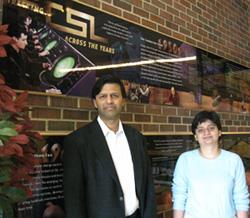 Computer science graduate student Vartika Bhandari and ECE Professor Nitin H Vaidya want to improve the future of wireless technology.
To do this, one of the focuses of their research involves multi-channel wireless networks and their protocols. They have been studying the theoretical angle of wireless device operation since early last year, including theoretical limits on large-scale networks. "If you look at a wireless device, it typically operates on some band of the spectrum," said Bhandari. "Essentially the wireless medium tends to be shared in the sense that if a device is talking on a particular band of the spectrum now, then devices near it need to be silenced. Otherwise two devices very close together, which try to use the same frequency, would experience a collision and nobody would get anything through."
Bhandari said this interference puts a limit on the number of people who can simultaneously use that frequency in any specific vicinity. As a way to improve performance, researchers have investigated the possibility that within a network you can use multiple frequencies simultaneously. So devices that are close to one another will actually talk on different frequencies, she explained.
"The approach and methodology of asymptotic capacity analysis that we used in our work was pioneered in a seminal paper titled "The Capacity of Wireless Networks" by Piyush Gupta and P R Kumar from ECE Illinois," Bhandari said.
Recent work by Vaidya and Bhandari includes looking at the performance of wireless devices that possess heterogeneous operational capabilities. For example, if it is possible to use 100 frequencies, a particular device or radio may perhaps be capable of operating on about 10 of these. But in the network as a whole, there are devices that operate on all frequencies. "So the question that arises is to what extent you can make good use of all the resources in terms of the spectrum that is available to you, and what the issues are that will arise in terms of scheduling and routing," said Bhandari.
Bhandari and Vaidya said they found the research they have completed to be instrumental in providing them with knowledge about some issues that arise when dealing with such wireless devices. "It is very helpful to us as we can now map these insights to networks at a more realistic scale than one would expect to encounter in practical everyday life," Bhandari said.
Their current research has not only been a fundamental component in their progress to better understand how to improve wireless device operation, but has also received worldwide recognition for its innovative and quality of findings. Bhandari and Vaidya received the Best Student Paper Award at the September 2007 ACM MobiHoc conference in Montreal, Quebec, Canada, for their paper entitled "Capacity of Multi-channel Wireless Networks with Random (c, f) Assignment."
"It's nice to know we won the award," said Bhandari, who found out about their achievement during her time at the conference. Out of 146 submitted papers, only 27 of those were accepted for publication.
Currently, Vaidya and Bhandari are trying to identify suitable algorithms and practices for issues involving routing and scheduling.
Bhandari received a bachelor's in computer science and engineering from the Indian Institute of Technology Kanpur, and is currently earning her PhD in computer science with Vaidya as her advisor.
Vaidya, aside from being an ECE professor, is also co-director of the Illinois Center for Wireless Systems, research professor with the Coordinated Science Laboratory, and affiliate professor with the department of computer science. His current research interests include wireless networking and mobile computing.