Contendable and Effimax Solar Tie for First at 11th V. Dale Cozad New Venture Competition
ECE News
Stephanie Larson, Technology Entrepreneur Center
4/11/2011
Story Highlights
The Cozad New Venture Competition is designed to encourage students, researchers, and community members to create new sustainable businesses in the Champaign-Urbana area.
Teams Effimax Solar and Contendable tied for first place.
ECE students Yi Chen (Effimax) and Zachary Tratar (Contendable) were members of winning teams.
The competition was fierce at the 11th annual V. Dale Cozad New Venture Competition (CNVC). On Saturday, April 2, the CNVC Finals and Awards Ceremony took place at the Business Instructional Facility. From a new solar cell manufacturing technique to a unique internet competition platform, the range of new ventures pitched during the final round of the competition was anything but boring. The day ended with a tie for first place as most fundable venture between Contendable and Effimax Solar, each taking home $4,500. Each of these winning teams had an ECE student member.
This year, 55 teams competed in the preliminary stages of the CNVC at the University of Illinois. The teams were narrowed down to 18 semi-finalists, then six finalists at a weekend competition co-hosted by the Technology Entrepreneur Center (TEC) and the Academy for Entrepreneurial Leadership (AEL) which was held at Wohlers Hall and the Business Instructional Facility.
CNCV is designed to encourage students, researchers, and community members to create new sustainable businesses in the Champaign-Urbana area. The competition promotes the development of the entrepreneurial character through collaboration among and competition between teams. Finalists and winners had the opportunity to meet with venture capitalists, early stage investors and successful entrepreneurs who served as judges for the semi-final and final rounds.
The six teams chosen to move onto the final round were, APS Healthcare Solutions, Contendable, Effimax Solar, PrintEco, Print One 4 Me, and SilverScreen. These six teams each had an opportunity to give a 10 minute pitch in order to compete for tens of thousands of dollars in cash awards and valuable in-kind prizes.
Effimax Solar (effimaxsolar.com), one of the first place winners, is developing a nanotexturing technique to increase the efficiency and lower the production cost of silicon solar cells that they will sell to photovoltaic manufacturing plants. Founded by ECE grad student Yi Chen and based on the PhD research he is conducting with ECE Assistant Professor Gang Logan Liu, Effimax Solar team members included Aaron Wiener, Dave Tarvin, Rui Cai of the College of Business/Technology Management, and Jingrui Lu.
In addition to tying for first, Effimax Solar also won the EnterpriseWorks Incubator Prize which gives the team incubator space and resources for six months as a part of their Student Start-up Initiative, the VentureLab Prize that allows teams to participate in a workshop sponsored by the National Collegiate Inventors and Innovators Alliance, Adobe Technology Innovation Prize which awards $2,500 worth of Adobe products to the team, the Singleton Law Firm Prize which gives free legal services in the areas of patent, trademark, licensing and product development and the Marengo Hampshire Partners Prize that allows up to $15,000 of executive search services.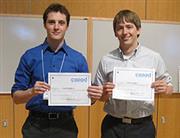 The other first place team, Contendable (contendable.com), included team members Zachary Tratar from ECE, Jason Febery from Materials Science and Engineering, and Robert Grzyb from Computer Science. Together with Alex Miller they created a platform for hosting and managing competitions in a unique community-based network which enables businesses to crowdsource innovation. In addition to sharing first place, Contendable also won $1,000 for Best Venture Pitch, Enterprise Works Incubator Prize, Singleton Law Firm prize, and the Illinois Technology Association Incubator Prize which allows the team to receive incubator space at TechNexus in Chicago for the summer.
Winning $500 for the Audience Choice Award, SilverScreen did not go home empty handed. On top of this prize, the team that has created Milkshield, an antimicrobial capsule that keeps milk fresh without refrigeration, also received the Adobe Technology Innovation Prize and $500 for Best Social/Non-Profit Venture.
Illini Prosthetic Technologies (IPT) also won $500 for Best Social/Non-Profit Venture. IPT strives to provide affordable prosthetic arms to amputees in the developing world.
Another recipient of the EnterpriseWorks Incubator space, VentureLab prize, and Adobe Technology Innovation Prize was APS Healthcare Solutions. APS Healthcare Solutions is creating a smartphone application that leverages cellular technology to improve healthcare for rural patients in the developing world. In addition to these awards, APS Healthcare Solutions also received the Adalyze Technologies prize which provides one week of offshore development services and half a day of strategic onshore advisory services.
PrintEco won $1000 for Best Green/Clean Tech Venture. PrintEco provides an innovative way to cut costs on corporate and consumer printing by up to 17% with their suite of plug-ins for Microsoft Internet Explorer and Office.
Print One 4 Me, which has produced a low-cost and easy to assemble 3-D manufacturing device, won $1,000 for Best Bootstrapped Venture, as well as the VentureLab Prize and the Singleton Law Firm prize.
IntelliWheels, Inc. was the recipient of the National Instruments Development Prize, which is $7,000 worth of hardware, software and training from National Instruments. Intelliwheels is the premier innovation house for wheelchair technology, developing wheelchair technology based on quality user input and feedback.
SERIONIX introduced a revolutionary technology capable of improving the efficacy and sustainability of critical water purification processes and won the VentureLab Prize.
eLibri, an online service allowing customers to rent electronic books for a monthly fee won $1,000 to Bella Mia Boutique to help start the team's business wardrobe.
The teams that presented throughout the course of the competition have truly inspiring ideas and are constantly pushing to boundaries of innovation and technology. TEC and AEL are very proud of their accomplishments and hope to continue to help them further their ideas.