Shah designs PCB tester in her spare time
ECE News
Reema Amin, ECE ILLINOIS
3/4/2011
Story Highlights
ECE Junior Ekta Shah spent two months in 2009 designing a printed circuit board tester that is now being sold by her father's company.
Though she had taken some classes in this area, she still needed to teach herself a lot of the technology.
Her tester was showcased by her father's company at a tradeshow in 2010, and will be shown at several similar shows in 2011.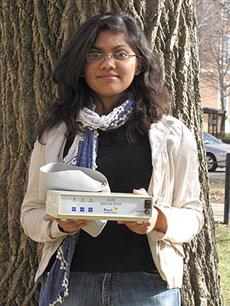 After ECE junior Ekta Shah spent two months in designing a product in India, it is now being sold as a new product for her father's technology company.
Shah, who grew up in Gujarat, India, traveled home during the summer of 2009 carrying a "small idea" in her mind. She said she wanted to create a product that companies were demanding from her father's company, Peach Technovations, which is a software and electronics manufacturer.
The result of Shah's small idea was "Cute," a compact printed circuit board (PCB) tester.
A PCB can be found inside of almost any electronic device. It holds the circuits necessary for proper function of the device. Shah explained that the boards can be faulty at times, which is why companies use PCB testers to locate the errors.
"My dad had a few ideas when I reached there, and I had some ideas. But the PCB tester had a big market; it was something people could use," Shah said.
Although she had taken a few ECE classes in this area, Shah said she did not have the full necessary background to create Cute. As she worked on it, she found herself using different resources to teach herself exactly what she needed to know.
"I took help at each step. But I wanted to learn and design on my own," Shah said. "If it's my product, it has to be mine."
Shah used her father's lab to create the product, where she was able to create a compact version of the company's original PCB tester, "Legend."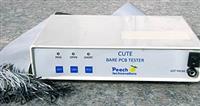 Her goal was to make Cute slightly more user-friendly than Legend. Shah's product will beep when an error is detected, and a light will turn on above one of two different error labels, indicating the nature of the fault.
In total, Shah spent about two months working on the project during that summer. She said completing the project was a personal accomplishment, since her father said it is difficult to start and finish a product in the industry.
Shah's father created the original PCB tester, which tests for 3,000 PCB pins. While it works well, she said it is expensive and tests for more PCB pins than most companies need.
"Say you want to check PCBs for remote controllers, which have about a hundred pins. You don't want to use a machine for 3,000 pins," she said.
While the older PCB tester costs about 250,000 rupees—about $5,537—Shah's tester sells for 25,000 rupees, which is roughly $551.
Since the company has focused more on software thus far, they have only started advertising more for Cute this year. Shah said 10 of her testers have been sold so far, and the company showcased Cute in trade shows in 2010. She added that it will be displayed in many more showcases this year.
Currently, Shah looks forward to a summer internship with Qualcomm. She said developing the product has not only helped her father's company to continue flourish, but she now has something significant to talk about with job recruiters.
Eventually, Shah wants to work in the field of computer architecture and perhaps start her own company. While continuing education is an option, Shah laughed and said, "I just want to remain in labs!"
In the meantime, Shah is taking part in the campus's Leadership Certificate Program. The program allows students to build leadership skills through the help of a mentor, usually a professor. Additionally, the mentor helps the student gather his or her experience and achievements into an organized portfolio. Helping Shah build her portfolio is ECE Professor Michael C Loui, her mentor in the program.
Loui was first approached by Shah when she wanted to tell him how much she enjoyed his ECE 110 course. She kept in touch with Loui and eventually presented her product to him. Loui said he was impressed, and he decided to be her mentor for the Certificate Program.
As for what he thinks the future holds for Shah, Loui said, "Well, I think we will be working for her."