New technology creates virtual green screen for videoconferencing
ECE News
Kim Gudeman, Coordinated Science Lab
6/10/2010
Story Highlights
New technology by Illinois researchers enables virtual presence on the Internet.
ECE Prof. Sanjay Patel has created a new company, Nuvixa, that makes virtual presence a reality.
Numerous new algorithms were developed to solve such problems as image quality, privacy, and cueing.
You and a friend are sitting side-by-side, watching Game 4 of the Stanley Cup Final together—only he's in Chicago and you're in New York.
Thanks to new technology created by University of Illinois researchers, you can be virtually present together on your computer screen.
The novel technology, trademarked under the startup Nuvixa, makes virtual presence a reality, enabling people to chat, communicate, and collaborate more effectively.
The idea is that you can watch the same thing at the same time and be present together while you're watching," said ECE Associate Professor Sanjay J. Patel, co-founder of Nuvixa. "Think of it as an interactive virtual green screen between remote users."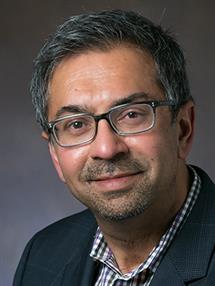 In addition to Patel, other co-founders of Nuvixa include ECE Associate Professor Minh N Do, ECE Professor Wen-mei Hwu, and ECE graduate students Quang Nguyen and Dennis Lin.
Through new algorithms, the researchers have solved many problems currently associated with video technology, including image quality, privacy issues, cueing, the need to wear a headset and lack of eye contact between users. The result is a system that helps users feel more connected with each other.
For example, an employee could share a report with a remote colleague. The colleague would see both the report and a live stream of the employee, who could open and close files with the wave of her hand—all in real time. The researchers have created the video stream with a transparent quality so that the video doesn't block the content (in this case, the report) or vice versa.
The collaboration can be very fluid and emotionally connecting," said Patel, who is also a researcher in the Coordinated Science Lab. "You can see expression and hand gestures. It's that encompassing."
The technology, which requires a web camera, will work on computers, televisions, cell phones and other electronic devices.
In the short term, Nuvixa will develop a plug-in for Skype that allows users to change the background of their videoconference. So instead of your office wall, for example, you could superimpose an image of the Eiffel Tower.
However, Patel sees many other applications in education, business, online social networks, and entertainment (only consider the potential for gaming, in which gamers who now combat unseen foes across the globe could actually see their opponents).
"Regardless of the application, our goal is to make video communication much more usable than what we have today," he said.