Illinois students build hybrid formula race car
ECE News
Charlie Johnson, ECE ILLINOIS
6/9/2010
Story Highlights
A team of Illinois students competed in the Formula Hybrid International Competition on May 3-6.
The Formula Hybrid Competition tests a team's ability to design and build a hybrid technology vehicle.
Teams are judged on car appearance, acceleration, energy efficiency, and drivability.
When you buy a car, there are a ton of decisions to make.
How much can I afford? V6 or V8? Two doors or four? What color? Leather or cloth?
When you're building a car, the choices are even tougher.
What sort of engine system? What kind of fuel can we use? How much battery power do we need? And, of course, what color?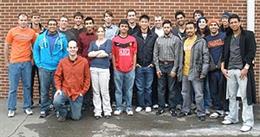 For the Illinois Formula Hybrid Racing team, it's all in a day's work.
Started at the Thayer School of Engineering at Dartmouth University, the Formula Hybrid International Competition is a spinoff from the Formula Society of Automotive Engineers competition. Competitor teams composed of students design and build an open-wheel, single-seat race car that they and race at the New Hampshire Motor Speedway in Loudon, New Hampshire. The teams are judged on their car's acceleration, energy efficiency and management, and on how quickly it can navigate a cone race course. This year's competition was held on May 3-6.
Illinois' Formula Hybrid team is the brainchild of general engineering junior, Dylan Erb.
"I was looking for some sort of alternative energy car club. I looked around and didn't see one. I talked to Professor Krein and I decided to start one," said Erb.
"I basically helped the team scope out their design within the limitations of the rules and put them in touch with people in industry who might be able to assist with donations," said ECE Professor Philip T Krein, the faculty adviser for the team.
So Erb, with the supervision of Professor Krein, set about making fundraising materials and gathering a team to compete in the May competition. And even though Erb got a late start, having only about half the time of most other teams, he found a group of a about 60 students willing to contribute, about 15 of whom have played the largest role in putting the car together. One of these 15 is ECE junior Mingoo Lee.
"Basically, I just love cars," said Lee. "That's what first piqued my interest. And I've been interested in green energy and alternative fuel s. When I found out we had a formula hybrid team this year, I put two and two together and joined up."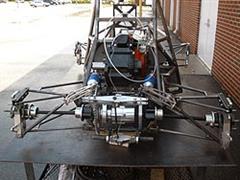 The team began with the 2008 car from Illinois Formula SAE car which they stripped down to the chassis and suspension as a starting point. From that point, they began to engineer their power train. To power the car, they decided on a series design. After some modifications to the chassis, the team installed a Briggs and Stratton go-kart engine coupled with a three-phase ac generator. As the go-kart's internal combustion engine runs, a belt drive cranks the generator which produces around eight additional horsepower, which is stored in a lithium-iron phosphate battery system designed by Lee. A three-phase motor drive then inverts the dc battery current back into three-phase ac current that runs the drive motor. An integrated control system helps to manage the storage and selection of power.
"The integration aspect of the project is a lot of fun," said Erb. "The project requires work from a variety of different engineering fields and I think we've done a good job organizing the different work and combining the different disciplines."
Though the team did not win—they came in 16th—the project has had its educational rewards. "It's been challenging from the electrical side because, as students, we haven't had much experience in the classroom with hybrid technology," said Lee. "Even in the corporate world, the technology is still pretty new. But, it's been a lot of fun working with new technology."

After travel expenses for the competition, Erb estimates the total cost of the project to be around $55,000. The team has received donations of parts from National Instruments, Briggs and Stratton, A.O. Smith, Yaskawa Electric, Enerpro-Inc, among many other. They also received monetary donations from the ECE, Mechanical, and Aerospace departments as well as SORF and the Design Council.