Bashir to lead research thrust in new EBICS Center
ECE News
Susan Kantor, ECE ILLINOIS
4/19/2010
Story Highlights
Professor Rashid Bashir will lead Thrust Four of the Emergent Behaviors of Integrated Cellular Systems (EBICS) Center.
The center's purpose is to develop biological machines along with creating bioengineering educational materials and doing diversity outreach.
Bashir and his team will work to design the micro-fluidics and micro environment to keep cells alive and functioning in biological machines.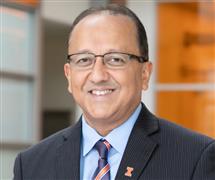 The National Science Foundation (NSF) recently awarded the Massachusetts Institute of Technology (MIT), the Georgia Institute of Technology, and the University of Illinois at Urbana-Champaign $25 million to establish a Science and Technology Center named Emergent Behaviors of Integrated Cellular Systems (EBICS). ECE Professor Rashid Bashir will be the leader of Thrust Four, which focuses on enabling technologies of the new center.
The center, headquartered at MIT, will have equal contribution between the three main institutions. These main institutions are partnering with Morehouse College, University of California-Merced, CCNY, and international partners.
The center's purpose is to develop biological machines, as well as to create bioengineering educational materials and do diversity outreach.
"The center is about building biological machines using cells," Bashir said. "It's an exciting new area that interfaces engineering and biology. It's the next step in synthetic biology."
They will research the potential for certain cell types—endothelium, muscle, and neuron—to become building blocks for biological machines.
"There is so much to learn and understand just with these three cells," Bashir said. "There are so many other types of cells that could be used that have other unique functions. There are the photoreceptors in the eye, cells that do photosynthesis in plants, for example."
A biological machine might be able to sense chemicals in the fluid around it and in cells themselves. Other cells in the machine would be able to produce a neutralizing agent to combat a toxin or neutralize a chemical around them.
"If we can develop the building blocks of sense and release, and sense and movement, then you can use those building blocks to do lots of different functions," Bashir said. "Think about biological machines at the small scale that could sense, release, actuate, move, and respond to their environment. Over time, you can add extra functionality to it."
The center is divided into three scientific thrusts, which includes single cell sources, cell clusters, and cellular machines; and one enabling technology thrust, which includes nanotechnology, imaging, and computation.
Bashir will lead the technology thrust. He and the team from the partnering institutions will work to design the microfluidics and micro environment to keep cells alive and to provide the environment for the cells to function in these biological machines.
"The possibilities are really endless if you think about it," Bashir said. "Part of the challenge was to define this more precisely, because there are so many things that are possible, and this is really the first step. It's very exciting from that perspective."
These biological machines could possibly perform newer functions or functions that machines do, but with biological cells.
"If you look at biology, there are so many exquisite functions that have been designed by nature and biology, that engineers would love to mimic," Bashir said. "The idea here is to really use those cells themselves to do those functions, and be able to design and forward engineer those systems."
Research at Illinois will be headquartered at the Micro and Nanotechnology Lab, and will include faculty from across campus: Mechanical Science, ECE, Bioengineering, Cell and Developmental Biology, Animal Sciences, Chemical Engineering, and Vet Med.
More information can be found at the EBICS Web site.