ECE junior Paul Mikols spends semester in "Silicon Valley of Taiwan"
ECE News
By Susan Kantor, ECE ILLINOIS
3/29/2010
Story Highlights
ECE junior Paul Mikols spent the Fall 2009 semester at National Chiao Tung University (NCTU).
Among his classes were three technical courses that will transfer as credit toward his degree.
Mikols encourages all students to take advantage of the study abroad opportunities the University offers.
Paul Mikols never wanted to study abroad.
"My sophomore year, I went on a winter trip to Taiwan and Hong Kong. My original thought was, hey, it's a cheap trip. Let's go visit Taiwan and Hong Kong," said Mikols, a junior in electrical engineering.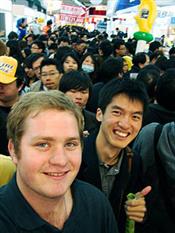 That trip changed his mind. Mikols was captivated by the people and the country of Taiwan. Combine that with a desire to learn Chinese and the allure of the technology produced in Taiwan, and Mikols was hooked. Mikols left to study abroad in Taiwan on September 6.
Before leaving, he didn't know much more than how to say "hello" in Chinese. That wasn't too much of a problem, though. Everyone he encountered at National Chiao Tung University (NCTU), where he studied, spoke English. But he did have to pick up a little to travel around Taiwan.
"We figured out knowing enough Chinese to travel wasn't beyond our reach," Mikols said. Within the first month, he learned how to count money, say what he wanted, and ask how much something cost.
"It definitely does help when you're walking around with people, asking them to say it in Chinese as you think it in English," Mikols said.
NCTU has about 10,000 students and is in the heart of the "Silicon Valley of Taiwan."
Mikols took three technical courses: digital signal processing, data structures (equivalent to CS 225), and a graduate course in flat-panel displays. All of his classes were in English and will transfer as engineering credit. He also took a class on Chinese and an economics course.
"I was very fortunate that the classes I needed were there," Mikols said. "If nothing else, technical electives were what I was expecting. My graduate course transferred as a technical elective for ECE. As long as you're beyond the introduction classes, anything 300-level and above, you can probably find something similar in Taiwan."
NCTU's ECE department had about 12 professors, and Mikols was able to form relationships with about half of them.
"Having this international relation with them, if I ever have a question, or if I am ever in Asia in general, I can shoot them a message," he said.
ECE Department Head Andreas C Cangellaris and ECE Director of External Relations Lizbeth Anne Katsinas visited ECE alumni while Mikols was in Taiwan, and they invited him to a dinner where he met with some of the ECE alumni.
"It really was nice to see all the Illinois alumni over there," Mikols said. "There are so many Illinois alumni in Taiwan. Even at my university, there were two Illinois alumni that I didn't know. It was surprising."
Mikols returned to the U.S. on January 9. And although he does not have time to take a Chinese course, he still has a group from NCTU he can connect with.
"Eighteen students from that university came back here, so I am able to speak to them in Chinese and keep up communication," Mikols said.

Mikols brought back fond memories of his trip and a better understanding of international engineering.
"There's so much outside the United States," Mikols said, and he encourages others to take advantage of the opportunities they have while students at Illinois to study abroad. "Take time while you're in school to experience the world as it is."